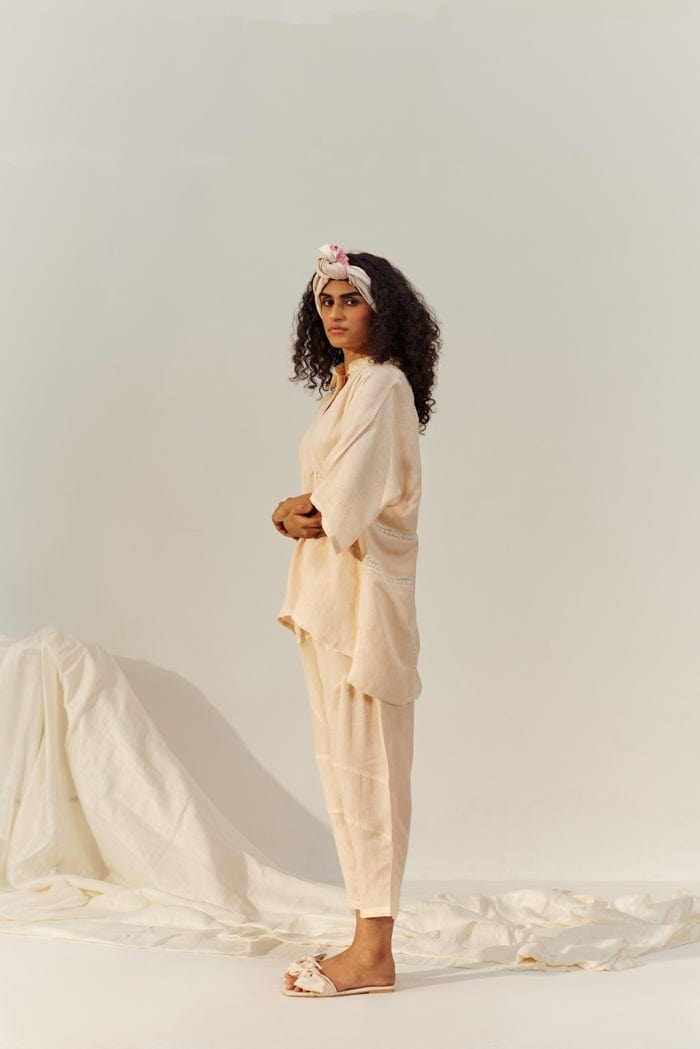 Relaxed fit co-ord set featuring:
SP A C E classic, anti-fit shirt.
Classic shirt collar.
Buttoned placket.
Elbow-length sleeves.
Mid-length.
All over Lace details.
Fit type: Anti-fit/oversized.
Coordinated SP A C E classic, bag pants.
Mid-waist.
Fully elasticated waistband.
Tapered ankles.
Style line details.
Fit type: Relaxed.
Dry clean only.
Linen viscose fabrics are made of 100% natural linen and viscose fibres. These fabrics feel softer and are less prone to wrinkling .Viscose is extremely airy which makes the garment breathable.It is a very light fabric that doesn't stick to the body, so it's optimal for warm weather clothing.
Order cancellation will only be possible within one day of placing the order with us. Once canceled, the amount paid will be credited to the original payment method. We only allow a one-time size exchange within seven days of the receipt.
Since SPACE is a make -to-order brand, we do not provide any refund on the purchased product.
Space Promotes Slow And Eco-Conscious Fashion And Hence, All Your Purchases Are Make-To-Order, Stitched Carefully With A Precision That Might Take 10-15 Working Days. Enjoy The Exclusivity With An Uncompromised Experience.
The laid back luxe exuberated by the collection is all sustainable and made of fabrics that are eco friendly.
BIRCH CO-ORD SET

100% Natural Fabric

Sustainable Practices

Homegrown Brand